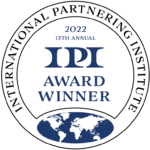 The International Partnering Institute (IPI) recently recognized organizations and Individuals who have worked to make the industry more collaborative at its 13th Annual John L. Martin Partnered Project of the Year Awards Ceremony in San Francisco, Calif. Three exemplary project teams facilitated by VELO Group were among the award recipients honored.
Part of a two-day event that included a golf tournament, conference and awards gala, the annual celebration recognizes projects and individuals who best exemplify the principles of partnering and promote the mission of International Partnering Institute (IPI) – to transform the construction industry to achieve exceptional results through a culture of collaboration. The awards celebrate success, share lessons learned and best practices, as well as acknowledge teams and individuals who achieve extraordinary results.
This ROI of partnering from this year's award-winning projects revealed an $82 savings for every $1 invested in Partnering.
Congratulations to the following VELO Group 2022 International Partnering Institute (IPI) Award recipients!
2022 IPI Awards: BUILDINGS AND INFRASTRUCTURE OVER $250M
RUBY LEVEL
State of California New Natural Resources Headquarters