Creating an environment among the project team where outside the box thinking is encouraged and innovative ideas flourish is a key component of Construction Partnering. During one of the partnering sessions for the Naval Air Weapons Station China Lake Earthquake Recovery Program projects, the team came up with a novel idea to use this $2.7 billion recovery program as a training opportunity for Navy Seabees.
Called the Seabees Skills Mentoring Program, this unique training program exposes Navy Expeditionary Combat Command Seabees and Civil Engineer Corps officers to large-scale commercial construction techniques. Service members in the program receive training from on-site contractors and professional engineers to gain knowledge in modern construction practices and procedures. The training includes lessons in quality control, scheduling, planning, the application of new technologies and hands-on/practical skills by working in the field.
Vital to the program's success is the cooperative and collaborative relationships with the contractors on the projects. Currently, Environmental Chemical Corp, Hensel Phelps Construction and Reyes Construction Inc. are providing mentors to help train the Seabees. By learning from experienced journeyman/master tradesmen and professional engineers from these companies, the Seabees are developing individual planning, construction and management skills by tapping the knowledge of some of the top builders in the country.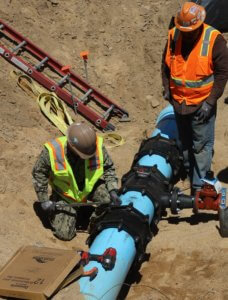 Impressed by the Seabees eagerness to learn as well as their ability to soak-up the knowledge and techniques they are taught, participating contractors say that the Seabees quickly apply the skills they are learning to their project tasks. Already recognized by all project stakeholders as a worthwhile endeavor on many levels, the mentoring program is not only supplementing talent on this project, but it will enrich the future of the Naval Construction Force. It also provides individuals in the program with new skills that could lead to a rewarding construction career after they return to civilian life.
Learn more about this mentorship program and the NAWS China Lake Earthquake Recovery Program being facilitated by Neal Flesner at VELO Group in the January-February 2022 issue of The Military Engineer: https://online.fliphtml5.com/fedq/lwnx/#p=68.