Congratulations to the Naval Base San Diego P-440 Pier 8 Replacement project team on receiving two 2022 Construction Risk Partners (CPR) Build America Awards from the Associated General Contractors (AGC). These accolades include the Marvin M. Black Partnering Excellence merit award and Federal & Heavy New category award.
Presented on March 29 at AGC's Annual Convention in Texas, the Build America Awards honor AGC members who build the nation's most impressive construction projects ranging across the building, highway and transportation, utility infrastructure, and federal and heavy divisions. The awards are considered among the most prestigious in the United States construction industry.
A category within the CRP Build America Awards, the Marvin M. Black Partnering Excellence Award is presented annually to construction project(s) that epitomize the principles of Partnering. Inspired by AGC's Past President Marvin M. Black, the inclusion of Partnering into the Build America Awards represents a timely and unified celebration of the construction industry's finest. Contractors honored with this award stand out for their ability in the following areas:
Signing a formal partnering charter
Achieving a common goal
Honoring all stakeholders
Resolving Conflict
Improving communication on the project with all audiences
Incorporating team-building activities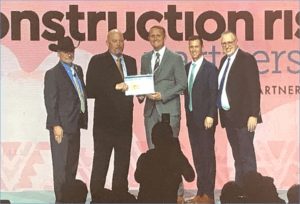 A NAVFAC Southwest project built by Manson Construction Co., the Pier 8 Replacement project entailed construction of a new single-deck General Purpose Berthing Pier that replaced the existing 70-year-old Pier 8 at Naval Base San Diego (NBSD). The new pier is 76 percent larger than the previous one, at 117 ft. by 1,600 ft. (187,200 SF), and consists of 549, 24-in. prestressed octagonal concrete piles supporting a concrete superstructure of more than 17,000 CY of cast-in-place concrete.
Having experienced exceptional results by partnering together on three other Piers at NBSD, the team understood the value of leveraging a formal partnering program to deliver a finished project that exceeded all expectations. The project kicked off with an 8-hour Partnering Session facilitated by Neal Flesner at VELO Group. The session focused on defining common goals; development of an issue resolution procedure; and setting specific milestone dates that would safely lead to an early project completion. The team also created a list of potential challenges or concerns to be addressed and brainstormed further goals that would equate to extraordinary success for the project.
Thanks to the relationship of trust and cooperation already fostered while partnering on previous projects together, the team's commitment persevered through the pandemic as they found innovative ways to meet safely and conduct daily partnering among project stakeholders at all levels.
The team's outstanding Partnering efforts resulted in the delivery of a quality, state-of-the-art pier 4.5 months ahead of schedule, with minimal impact on port or base operations and zero open claims. They also achieved the rating of "Exceptional" in ALL categories on the final project evaluation, and Manson was awarded the nearly identical Pier 6 project at NBSD through the best-value process.