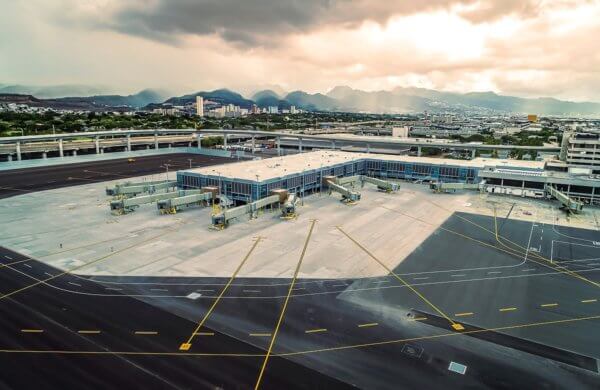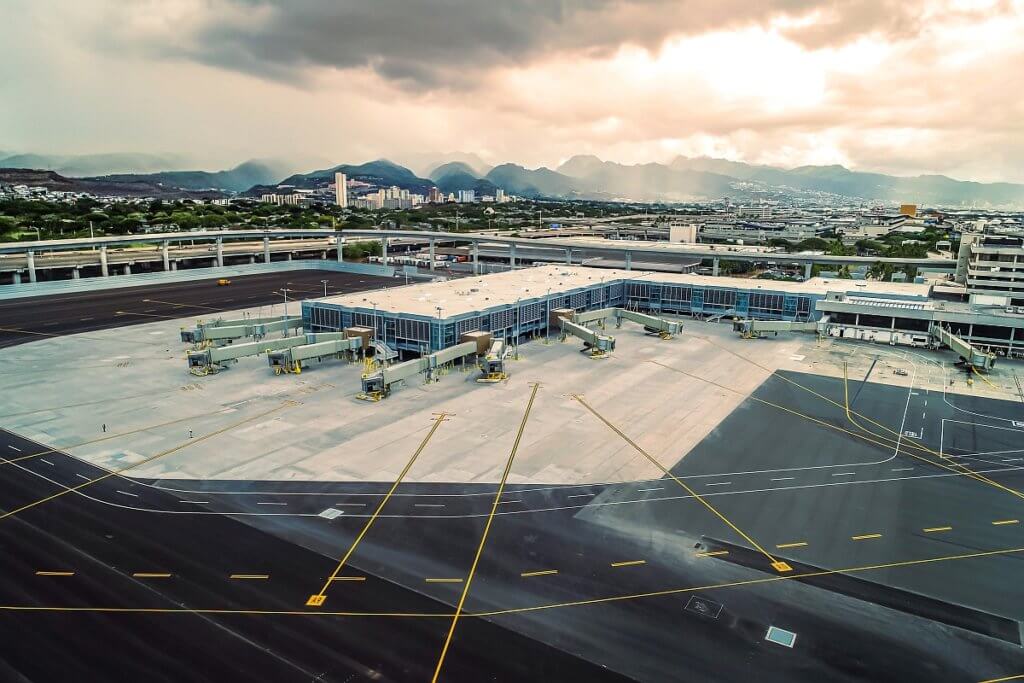 "KYA; the project's construction manager AECOM; its general contractor Hensel Phelps; and the Airlines Committee of Hawaii all worked collaboratively with the State Airports Team to build this aesthetically pleasing and modernized concourse."
Project Description
Honolulu, Hawaii
Accommodating up to 8,000 passengers daily, the Mauka Concourse Extension project at the Daniel K. Inouye International Airport (HNL) in Honolulu, Hawaii included construction of a 270,000-sq. ft. terminal extension that provides additional TSA checkpoints, gates and flights for passengers, as well as 23 acres of taxiway asphalt paving and 9.5 acres of concrete paving.
Features of the new concourse include the capability for six wide-body or 11 narrow-body gates; a new security checkpoint with capacity for up to six lanes; passenger hold rooms, USDA inspection stations, jet bridges, and public amenities such as concessions, retail space, restrooms, and information kiosks.
To meet the Hawaii Department of Transportation's commitment to improving the sustainability of transportation, the Mauka Concourse was designed and built to achieve Leadership in Energy and Environmental Design (LEED) Gold Certification from the U.S. Green Building Council. Some of the facility's eco-friendly design elements include skylights and windows to make the best use of natural light, LED lighting, a high-performance building envelope to reduce solar heat gain, and ventilation shafts to direct air conditioning at the human level instead of cooling the entire structure.
To help align team members and meet the goals over the course of this complex, long-term project, the team implemented a formal Partnering program. During the initial Partnering session, the team set common goals to mitigate impacts to airport operations and help ensure a positive outcome related to quality, construction team and public safety, schedule, budget control, issue resolution, RFI resolution, and submittals.  Each goal was revisited, measured during subsequent Partnering meetings, and adjusted if needed.
Developing novel solutions to project challenges were among the many benefits resulting from this project's Partnering program. One of the innovative solutions the team implemented was the extensive use of construction drone technology. General Contractor Hensel Phelps conducted the initial drone flight to map the entire site before demolition of the existing structures. From that time on, they conducted weekly drone flights over the airport replacement project site to assist with daily work planning, safety briefings, progress reports, quality control and project-wide communication.
With a project-first mindset, the team overcame various challenges and ultimately created an inviting gateway for visitors and locals that is truly reflective of Hawaii's Aloha culture, and of which all stakeholders can be proud.