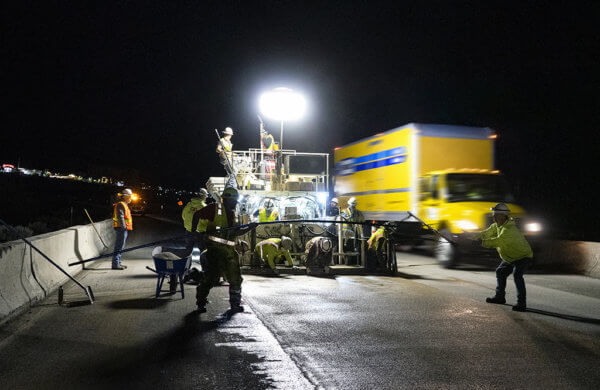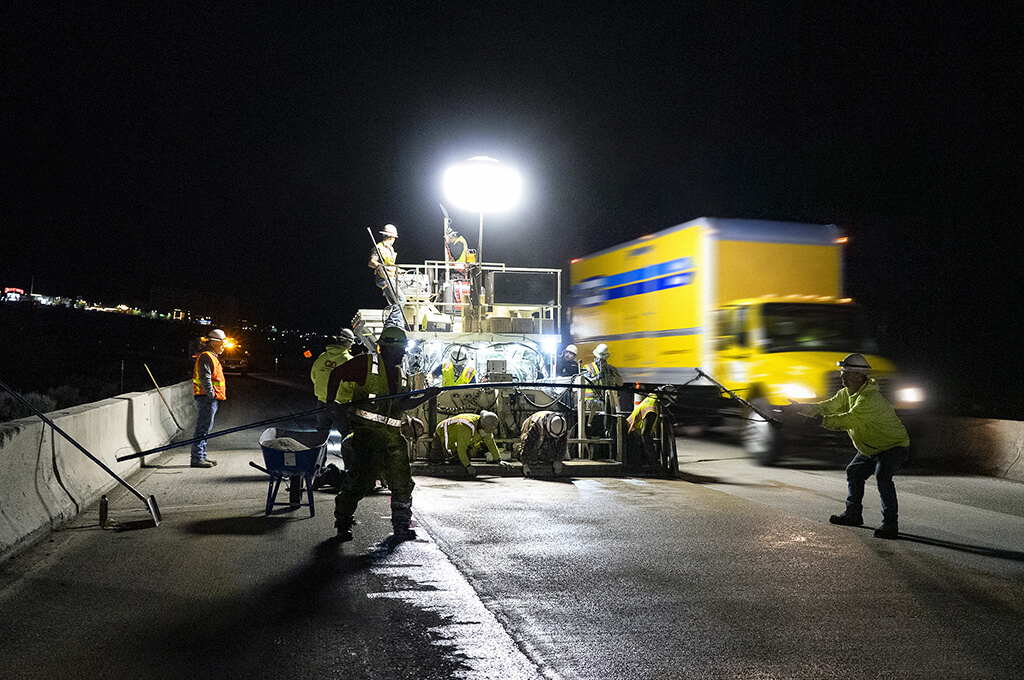 Although we didn't meet all of our goals 100-percent, providing a safe roadway for the public was the ultimate goal for the team and that outweighed the accelerated milestones and the incentives. The partnering process—seeing the project through alternate lenses—elevated our levels of cooperation and enhanced our dedication to the project.
Project Description
Washoe County, Nevada
With a high percentage of truck and tourist traffic, I-80 is one of the heaviest traveled routes in Northern Nevada. Due to years of wear and tear on this heavily traveled roadway, major repairs were required along the 12-mile-long route to ensure public safety. with a combination of urban and semi-rural interstate conditions. The eastern limits of the project included traffic control in downtown Reno, while the western limit involved working with California Department of Transportation (CALTRANS) to permit traffic control devices placed in the Truckee River canyon across the border. 
Valued at more than $42 million, the large-scale highway project was fast-tracked at the Nevada Department of Transportation (NDOT) a year ahead of the normal design schedule in order to expedite mitigation of the public safety concerns. By coming together before construction began, the I-80 Keystone to State Line team quickly found a balance between the needs and expectations of all parties. That combined with the commitment, follow-through, and creativity of the team members, led to cooperative and collaborative project from start to finish.
To align the team and set a positive tone from its outset, the team met regularly prior to the official contract start date to establish common goals and discuss the project's challenges including:
Safety: Work in a public right-of-way with posted speeds varying from 25 (ramps) to 65 (mainline) miles-per-hour;
Stakeholders & Environment: A 12-mile project that cuts through residential and commercial neighborhoods, farmlands and environmentally sensitive areas;
Budget/Change Orders: The accelerated design process that NDOT undertook to keep the public safe exposed them to a higher degree of change order risk;
Schedule: Mostly night work, seasonal restrictions, unpredictable snow levels and an expected amount of additional work all under a 280-day schedule constraint.
The partnering process helped each team member communicate openly to find solutions together that most effectively mitigated the risks. Among others, these solutions included strategies to improve the schedule, exceed quality requirements and communicate effectively with all project stakeholders, including the public.
For example, the project included two marathon weekends that completely closed a major interchange at Keystone Avenue and ramps adjacent to UNR on two separate dates. These marathon shifts reduced the amount of traffic control needed and reduced impact to the traveling public and local businesses. The team worked closely with businesses, partner agencies, University of Nevada Reno and law enforcement to determine a date least impactful and provided information well in advance. The team completed this work with zero complaints.
A major scope of work included environmental enhancements and strict adherence to NDOT's Storm Water Protection Policies. The team participated in weekly inspection and additional inspection before and after significant storm events as require by NDOT Storm Water for compliance. In addition, the construction team worked together to develop several project specific BMP's to improve stormwater pollution mitigation measures.
Q&D's construction team continuously communicated upcoming construction activities with Stakeholders, allowing public outreach staff to effectively communicate travel impacts at each stage of this project. This process allowed for feedback from local businesses and other stakeholders sometimes resulting in changes or improvements to Q&D's traffic control operations.
2020 International Partnering Institute Partnered Project of the Year Award – Ruby Level 
Nevada AGC Pinnacle Award