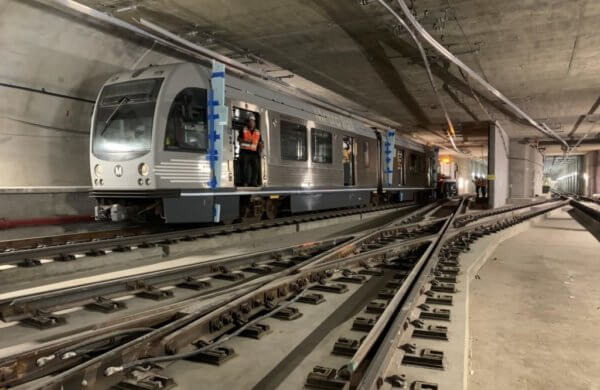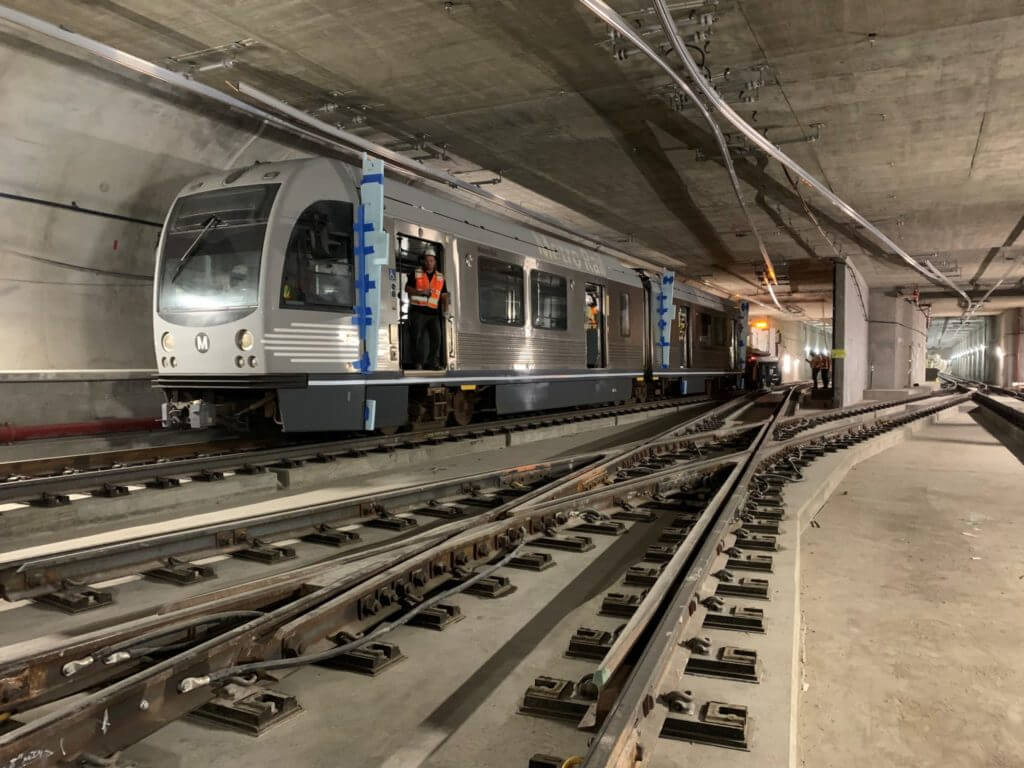 Project Description
Los Angeles, CA
The Los Angeles County Metropolitan Transportation Authority (L.A. Metro) Connector project was built to connect existing rail lines for seamless rides through Los Angeles County. Serving approximately 88,000 riders daily – including 17,000 new riders, the project successfully eliminates transfers for trips from Azusa to Long Beach on one new rail line and from East Los Angeles to Santa Monica, through the downtown LA core on the second line. This includes equitable access to popular destinations such as the Broadway Historic Core, Walt Disney Concert Hall, Colburn School, MOCA and the Broad Museum. 
With construction spanning from September 2014 to September 2022 (substantial completion), the $1.7 billion mega project entailed construction of 1.9 miles of twin-bored tunnels, 22 ft in diameter as well as three new underground stations (Central, Broadway and Hope) that are approximately 400 ft in length and vary from 40 to 112 feet in depth.
A maze of underground utilities and unknown obstructions were encountered during tunnel boring that the team worked collaboratively to mitigate. The project team used construction technology such as BIM-assisted design and Shape Accel Arrays—a system of wireless sensors to aid the tunnel boring machine Angeli in navigating through particularly tight tolerances and situations of very shallow cover when building the tunnels and its underground stations. 
Further work entailed more than 3,700 feet of cut-and-cover tunnel construction in L.A.'s busy financial district. Temporary traffic decking was used to construct that scope as well as the underground stations during 55-hours of weekend closures.
As part of the contractual requirement with L.A. Metro, construction partnering was implemented throughout the project. Facilitated by Velo Group, the formal partnering program was utilized to help create conversations, establish common team goals and resolve issues between team members and third parties.
The program entailed a kick-off partnering workshop as well as follow-up partnering sessions throughout the duration of the project. The follow-up sessions involved senior design and construction team leadership, Metro operations, and the City of Los Angeles to discuss coordination of construction operations and street closures. Larger follow-up partnering sessions with various stakeholders from the design and construction team were also conducted to evaluate the project's goals for schedule, quality and safety; recognize accomplishments; and discuss areas needing attention, then assigning responsibilities and deadlines to address these tasks. 
Bi-monthly partnering surveys were used to measure the team's goals. Throughout the eight-year long project, the partnering process was adapted to bring in new stakeholders, new scopes of work and the inclusion of operations and maintenance.