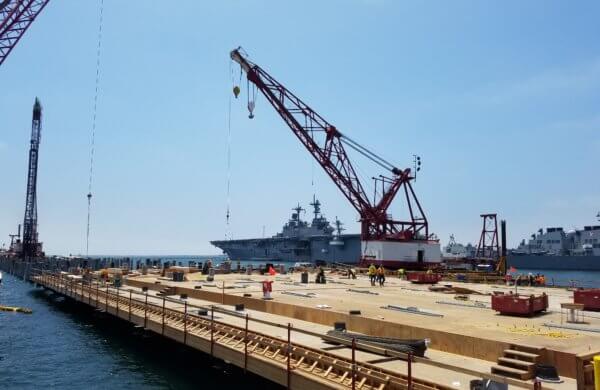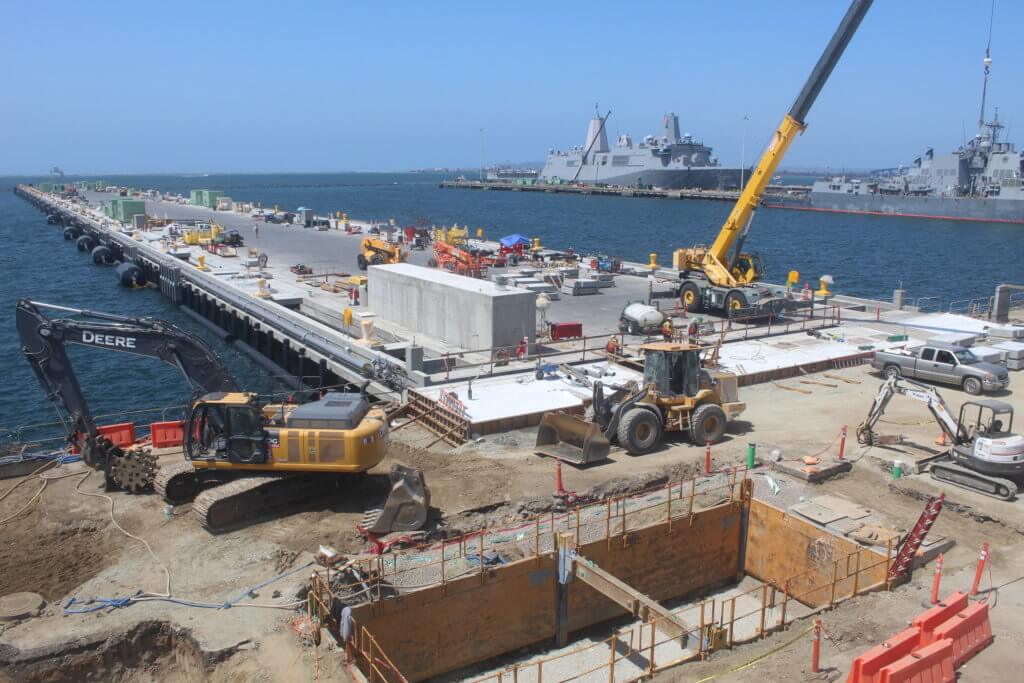 "It [the Pier 8 project] was a poster child for daily partnering between the contractor and client and is a great example of what can be achieved when all parties work together for the good of the project."
San Diego, CA
The Pier 8 Replacement Project entailed construction of a new single-deck General Purpose Berthing Pier that replaced the existing 70-year-old Pier 8 at Naval Base San Diego (NBSD). One of 13 piers, the existing pier was nearing the end of its service life.  Inadequate deck size and load-bearing capability, structural deterioration, and insufficient utility lines for supplying electricity to power-intensive modern vessels hindered the operations of this busy naval base.
The new pier is 76 percent larger than the previous one, at 117 ft. by 1,600 ft. (187,200 SF), and consists of 549, 24-in. prestressed octagonal concrete piles supporting a concrete superstructure of more than 17,000 CY of cast-in-place concrete. The state-of-the-art pier includes capacity for a 181-metric-ton crane, fenders, loadout ramp cradles at quay wall, upgraded steam system, and utilities including electrical, potable water, sanitary sewer, and oily waste. Information systems with communication vaults and a shore-to-pier trench were required. Additional work included pile foundation, quay wall modifications, underground electrical utilities, switching station, primary and secondary distribution systems, telephone, coaxial and fiber optic communications, supervisory control and data acquisitions systems for energy monitoring and control, and a fire alarm system. Anti-terrorism/Force protection included security crash gate and fencing, watch tower, guard house, and high-mast lighting. 
Having experienced exceptional results by partnering together on three other Piers at NBSD, the team understood the value of leveraging a formal partnering program to deliver a finished project that exceeded all expectations. The team kicked-off the project with an 8-hour Partnering Session to define its common goals; write an issue resolution procedure; and set specific milestone dates that would safely lead to an early project completion. The team also created a list of potential challenges or concerns to be addressed and brainstormed further goals that would equate to extraordinary success for the project.
Thanks to the relationship of trust and cooperation the team had already fostered while partnering on previous projects together, its commitment persevered through the pandemic as they found innovative ways to meet safely and conduct daily partnering among project stakeholders at all levels. 
The team's Partnering effectively resulted in the delivery of a quality, state-of-the-art pier 4.5 months ahead of schedule, with minimal impact on port or base operations and zero open claims. They also achieved the rating of "Exceptional" in ALL categories on the final project evaluation, and Manson was awarded the nearly-identical Pier 6 project at NBSD through the best-value process.