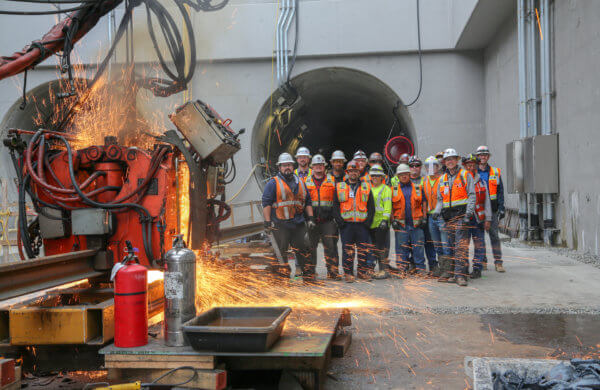 "From the beginning, the entire team was committed to living up to the goals of our Partnering Charter. We embraced the concept of using open and respectful communications to resolve project issues and this created a rare chemistry among the project team that allowed us to achieve exceptional success in delivering this project."
Seattle, Washington
The Northgate Link Extension Trackwork from UW Station to Northgate Station (N180) project encountered technical, schedule, and logistical challenges that were overcome through partnership and collaboration among every member of the project team. All stakeholders, including contractors on interfacing concurrent projects, worked closely to successfully execute Sound Transit's nearly decade-long plan to bring light rail to the Northgate district of Seattle.
The project involved adding a 4.3-mile extension to Sound Transit's light rail system. This entailed furnishing, installing and testing all trackwork and related elements within two 3.5-mile, 80-ft. deep parallel tunnels and across an elevated guideway between the existing University of Washington (UW) station and the new Northgate station. 
Further complicating the project, the tunnels are located beneath critical UW research facilities which are extremely sensitive to vibration and electromagnetic fields. To mitigate the impacts of future light rail train service beneath the facilities, the project team partnered to develop unique and innovative concepts. These pioneering innovations included constructing the track on heavyweight, non-magnetic precast concrete floating slabs; elastomer isolation pads; and using ultra-straight rail. Since these components had never been used in the U.S. before, complex strategies for procurement, installation, and testing were required.
One of the best examples of the value Partnering brought to the project resulted from Sound Transit's need to integrate the N180 track construction with five concurrent Sound Transit contracts in the same alignment – one tunnel boring project, three stations, and one systems contract. This posed many challenges since each contractor had their own priorities, milestones, changes, delays, and restrictions, and their work was dependent upon certain elements of the other contractors' work being completed. To address this, Sound Transit held monthly Coordinated Installation Plan (CIP) meetings with each construction team to discuss upcoming schedule constraints and access needs, ensuring efficient coordination among all parties. The success of the CIP meetings was due to the project's partnered approach, where each contractor worked to understand each other's needs and made decisions in the best interest of the program.
2020 International Partnering Institute Partnered Project of the Year Award – Ruby Level