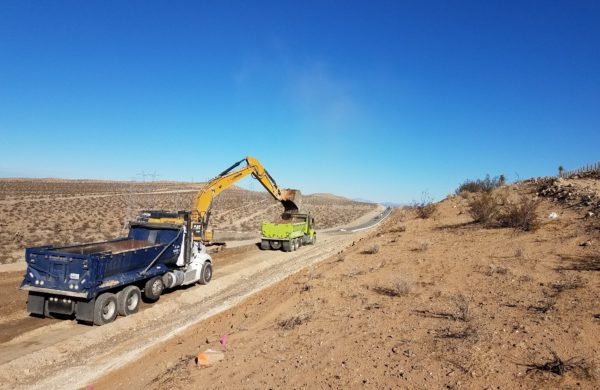 "Team lunches helped Caltrans and Sully-Miller project staff become familiar with each other. The lunches put a human face to each participant, so staff on both sides were able to establish more than just a professional relationship."
Joe Royster
Project Manager, Sully-Miller Contracting Co.
US Route 395 is one of the main north/south highways in Southern California providing access to and linking economic centers, recreational areas, and urban and rural regions. Located in the high-desert terrain of San Bernardino County near the intersection of State Route 58, the project entailed widening the shoulders of Highway 395 to eight feet and constructing a four-foot median buffer.
The project team implemented Partnering strategies to overcome various obstacles, including lack of water in the region, difficult terrain and traffic, as well as compaction challenges. During Partnering sessions, the project team identified these and other issues up front, then collaboratively worked to resolve them. For example, when large boulders and varying soil conditions causing compaction issues were encountered during excavation work, the team collaborated on the compaction testing and achieved 95% compaction.
Although a Dispute Resolution Ladder (DRL) was created, the team was able to resolve issues in the field at the lowest level without having to use the DRL to escalate them. This was accomplished by holding weekly progress meetings at the lowest two levels of the team to discuss the project schedule, identify potential conflicts and develop innovative ways to improve safety and quality. If issues were encountered, the entire team would view and resolve the issue together on site. This process not only helped maintain the project schedule, but also alleviated team conflicts.
In addition to Partnering among the project team, third-party stakeholders were involved as needed. For example, the California Highway Patrol (CHP) collaborated with Sully-Miller and Caltrans to pre-plan the traffic control layout. This strategic relationship helped achieve zero safety incidents and reduced construction impacts on the traveling public.
2020 Caltrans Excellence in Partnering Gold Award