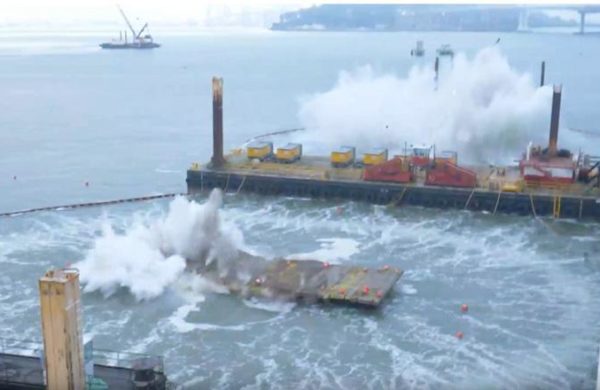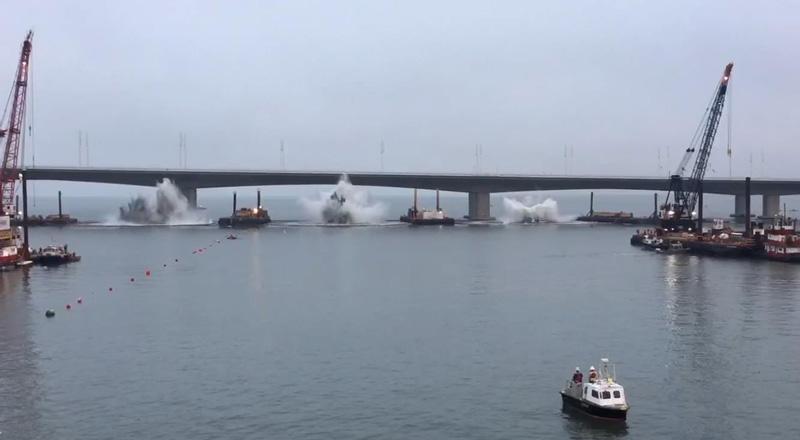 Project Manager, KMJV
"At each Partnering Meeting, the facilitator awarded a 'Champion of Partnering' award to a project team member who provided the most benefit to the Partnering process. Caltrans, KMJV, and subcontractor employees received the recognition."
A new San Francisco-Oakland Bay Bridge was completed in 2013, yet the existing bridge still needed to be removed in two phases. The first phase was used to develop a unique implosion blasting process allowing for a safe and eco-friendly removal of the marine foundations that would later be used to remove the remaining 15 piers during Phase 2. Located just south of the new east spans of the bridge in water varying from about 10 to 50 feet deep, the second phase of the SFOBB East Span Marine Foundation Removal Project entailed the removal of Piers E5 through E18. The piers were comprised of both mass reinforced-concrete and cellular reinforced-concrete components with the above-water height of the structures ranging from approximately 20 to 60 feet.
Consisting of the same award-winning project team as in Phase 1, Partnering played a key role in facilitating collaboration among project stakeholders and third-party permitting agencies overseeing the work. Partnering best practices included the development of a Partnering Charter with common team goals, as well as an issue resolution ladder; a Partnering kick-off session; weekly team meetings; team building activities and monthly Partnering Evaluation Surveys.
Resulting from this concerted effort, the team removed two of the largest piers without incident in 2016 and the remaining 13 piers in 2017. This complex, yet swift endeavor was accomplished through innovative changes made to the previously approved work plan. Increasing efficiency without negatively impacting the environment or community, this new plan reduced the 13 individual pier blasts that were to take place over two years into only six blasts. Each one required the mobilization of massive marine operations for the project team. Through trust developed during the previous phase, the various permitting agencies collaboratively and swiftly allowed for this adjustment.
The extraordinary team effort paid off, and the project was completed a full year ahead of schedule while saving millions of dollars.
2019 Caltrans Excellence in Partnering Award – Best in Class
2019 AGC of America Marvin M. Black Excellence in Partnering Award