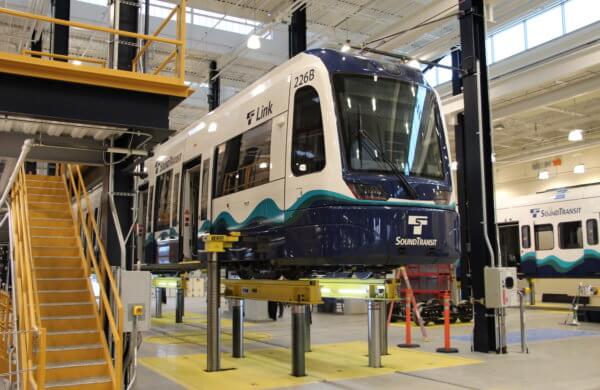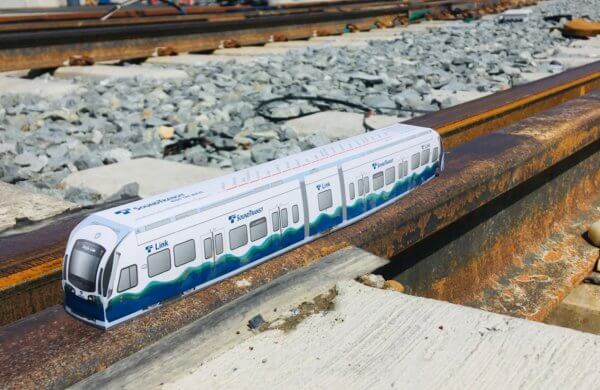 It has been a long journey since starting design in 2017, but the entire team kept a project-first approach throughout and collaborated as partners to reach this milestone [project completion].
Project Description
Bellevue, Washington
The Sound Transit Operations and Maintenance Facility East (OMF East) project entailed the design and construction of a new light rail operations and maintenance facility in Bellevue, Washington. The project's design-build contract included collaboration with the City of Bellevue on the master development plan entitlements along with planning for the site's surplus property. 
Crucial for the expansion of the region's light rail system, the facility accommodates the service, maintenance, storage and deployment of 96 light rail vehicles. The OMF East boasts a cleaning and wash bay, nearly 300 poles supporting train power, storage for 1,300 essential items, 14 service bays, and parking and office space for administrative and support staff. A Maintenance of Way facility accommodates service and storage of trackway and train systems infrastructure such as traction power substations, train signal bungalows, overhead traction power as well as non-revenue vehicle, station janitorial and landscape maintenance services. 
Designed to meet LEED Gold certification standards, sustainable features include a rooftop 100kW solar array, interim bike and pedestrian trails, as well as other energy and environmentally efficient features. Up to 260 employees staff the state-of-the-art facility, which operates around the clock 365 days a year. 
To align the various project stakeholders, including the public on this highly visible public transportation project, a formal Partnering program was implemented. This entailed setting common stretch goals related to schedule, budget, quality (design, construction & operational), safety, environment, SBE/DBE involvement, and teamwork. The Partnering program also included establishing a communication protocol, tracking goals through follow-up Partnering meetings and monthly partnering surveys, as well as implementing strategies for issue resolution.
Notably, the OMF East project was underway during the COVID-19 pandemic and participated in VELO Group's first-ever Virtual Partnering session. These sessions helped the project team align and innovate during this unprecedented time, keeping the team on track and bringing the project to a successful completion.